TEDWomen and The Dangers of a Single Story
1 March 2011
1 March 2011
Tags: Tanzania, USA
No Comment
Print This Post
I would like to congratulate the whole TED team for pulling off its first successful TEDWomen this past December. With TED2011 around the corner, I feel that it is important to address my reflections on my previous, and first experience at an official TED event. I am a TEDx Organizer from Tanzania, and this was indeed my first TED experience. As much as there were inspiring and amazing stories shared on the TEDWomen platform, I must admit I was deeply disappointed with the depiction of Africa.
Firstly was the homogenization of Africa as a country. Africa is not a country. Furthermore, the African stories shared were the same lackluster narratives of poverty, strife, war, and calls for the oft accepted panacea: more foreign aid.
That is not my Africa.
While the nature of the challenges faced on "the continent" (and for that matter, everywhere) are sure to produce broad and deep debate, my disapproval with TEDWomen stems from the fact that TED, for me, represents a counterculture to the adulterated mythos of the mainstream. Underpinned with ideas worth spreading, I am holding TED to the high standard that has made it a great organization. I work here under the premise that there is strength in our stories, but that strength cannot be realized if the story is not truly told.
I come from a country where neither civil war nor tribal strife has ever occurred. I, as an African, can only imagine the devastation that war brings. Though I have closely studied historical and ongoing war-time struggles in neighbouring countries such as Rwanda, the Sudan, Somalia and the DRC, these delicate human experiences are alien to me. While, in all honesty, I am disgusted by human indignity, and overjoyed by stories of triumphs, Africa deserves a more nuanced discussion.
Hans Rosling, the ever brilliant Hans, spoke of countries where they don't have washing machines, where the masses live under $2 a day. However, Hans failed to mention that in those same societies, there's a class of a chosen few who probably have 3 or 4 washing machines. This inaccurate depiction underplays the malignant tumor that plagues most poor countries: corruption and top-heavy schemas which foster inequality. This would have given the audience a multidimensional outlook of the aid, how it is administered, and the need for transparency and accountability from recipient governments as well as NGOs. This would have been more helpful than his conclusion that women give more than men: essentially encouraging the women to pull out their checkbooks, vindicated as more charitable than the clan from Mars.
Honestly, I also felt very uncomfortable with the Maasai father and daughter coming on stage to share their experiences, I felt as though they were objectified. Did they really have to fly across the world to share in 4 minutes, in Maa (Maasai language) that they had indeed reconciled? In the dead of a North American winter, in their full ceremonial Maasai garb? ( Background as this is not on TED video footage "At 14, Jacklyne Mantaine Lemeria ran away from an arranged marriage in her Maasai community. Returning to her village this year, she and her father, Lemeria Ole Leperes, have reached a new understanding") This new understanding was girls deserve a right to go to school and many thanks to …, this ended up being a pitch for the Vday organization that I absolutely admire, but felt it was very unnecessary, and perhaps a desperate attempt to play the audience.
Additionally, the bean breeder success story of Annet Namayanja from Uganda (who also raved and thanked the Rockefeller foundation ) also did not show the other ill effects of genetically modified seed and agro chemicals in Africa and other developing nations such as India. In India, they are currently tackling a phenomenon of "farmer suicides." These farmers, having taken out loans to procure the promise of a GM seed, meet shattered dreams with the failure of the said seed; with the immediacy of a debt due, no return on investment, and the societal shame of failure and debt default, suicide seems the honorable option. We don't have the same problems in Africa as of yet, however we are tackling more environmental degradation, health concerns, and of course, farmer bankruptcy.
When I voiced my concerns at TEDWomen, other attendees from other TED events said that I mirrored similar opinions they've heard from other African attendees at different TED conferences. To these, brothers and sisters, I will highlight that my goal is not to champion these concerns for them, but rather, to challenge us all to speak out when things appear amiss, when our story no longer appears to be our own. While it's an honor to be in the same room with Nancy Pelosi and Donna Karan, in this matter, remaining mum is a disservice to all.
There are myriad of issues that I can mention, but ultimately, feel as though TED could have done more research. There are so many successful stories coming out of Africa, I would love if for once we could have a fairer and more honest mix of presentations. Africa: the trials and tribulations; Africa: the successes; Africa the hopeful, but most of all, Mother Africa.
And here I end and ask you to watch this TED talk by Chimamanda Adichie.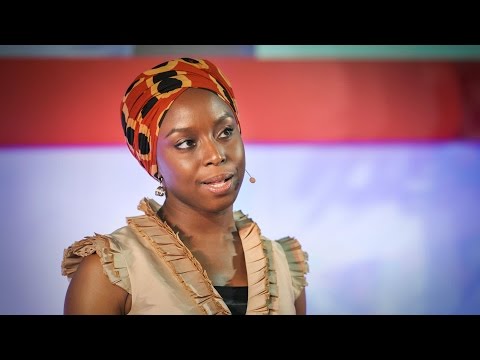 In addition please join a conversation my co-organizer started on TED.com: Is the Gates Foundation really out there to engage in development in effective ways?
Kathleen Bomani (Twitter: @katebomz) is a native of Dar-es-Salaam Tanzania. She is event curator for TEDxDar, a youth led initiative based on the belief in active discourse and public engagement in reaction to institutional constraints on creative development. She is a human rights activist and blogs about Human Rights, Africa & the creativity that is sweeping across the continent on her website at katebomz.tumblr.com. she can be reached at kate.bomz@gmail.com.