A New Dawn for Kenya as New Law Sails Through.
5 August 2010
5 August 2010
Tags: Kenya
No Comment
Print This Post
Kenyans overwhelmingly backed a new constitution to replace the British colonial-era draft that inflated the powers of the president. MPs allied to the 'NO' side conceded defeat even before the final results were announced, and called for consultations from both sides to address what they said were contentious issues.
Politicians led by Higher Education Minister William Ruto and his team of eight MPs said Kenyans have made their verdict but pointed out that the two million who voted against the document is a significant number that cannot be ignored and that a consensus needed to be arrived at.
As democrats we will accept the verdict of Kenyans. Since the country has decided that amendments be conducted later, we are now proposing as the 'No' team that immediate consultations start on both sides, added Ruto. He however added that 55 per cent of the voters either rejected or abstained from the vote, saying they are a majority and must be respected.
As expected Nyanza, Central, Western, North Eastern, Nairobi and the Coast provinces leaned heavily towards the 'Yes' vote while Rift Valley and Eastern produced the greatest number of those voting against the draft.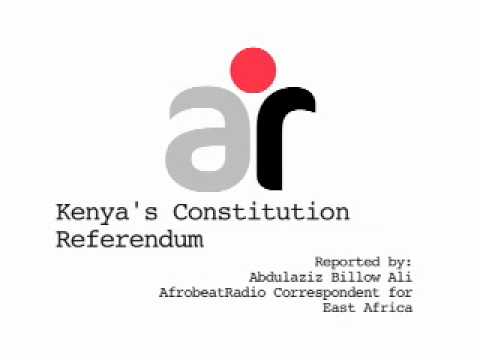 Victory Speech
Kenyan President Mwai Kibaki led the Prime Minister Raila Odinga, Vice President Kalonzo Musyoka and other leaders in celebrating the victory of 'YES' team saying the victory is for all Kenyans
The head of state said in his speech
"The historic journey we began over twenty years ago is now coming to an end. I am particularly pleased at the transparent and peaceful manner in which the Interim Independent Electoral Commission of Kenya conducted the referendum. I also want to thank Raila, Vice President Kalonzo Musyoka, Ministers, MPs and all other leaders for their frontline leadership in achieving this new constitution."

"I thank all the institutions established by the grand coalition government for the reform agenda for their valuable contribution,"

"Fellow Kenyans let us. Indeed may the new constitution be our shield and defender as we conquer poverty, disease and oppression. In you Kenyans I see a great people ready to build a prosperous nation.

"In our youth, I see the next generation and drivers of our economy,"
the President added.
"In this regard, I call for unity of purpose in all arms of government, Executive, Parliament and Judiciary as well the civil society and the media for a successful implementation of the newly approved Constitution.

"We shall continue with dialogue as we implement a new constitution, those who have expressed different views in the new Constitution will continue to be listened to. That is democracy."

"Let us all prepare to play a role in the new Kenya through a new constitution once it is proclaimed.

"We are happy because we have reached where we have reached; it is now upon us to remain united. All of us, even if it means we did not agree in opinion now we shall be together and remain together to build a new Kenya."
Prime Minister Raila Odinga on his part said that Kenyans have spoken and urged all including the 'NO' team to embrace the result and move on with the Kenyans in the task ahead of them.
"Kenyans have spoken in one voice, they have voted in a new constitution. We want to thank all Kenyans who came out in large numbers to vote for the new Constitution.

"We also want to thank the IIEC for conducting a free and fair referendum,"

"We had a big team which I must congratulate, they include the President, Vice President, Deputy prime ministers and the ministers and MPs and you Kenyans. We are all happy for the successful referendum here in Kenya."

"Our team has played well and we have won, this is not the end, it is the beginning. Work has just started. The work of building a new Kenya has just started. We will remain united with you Kenyans and all the leaders in building this new Kenya."

"I also want to thank those who were opposing us because they were exercising their democratic right and I also thank them for conceding defeat. We will remain united in this task of building a new Kenya."
the Prime Minister concluded.
The apparent passing of the new constitution is a major victory for President Mwai Kibaki, who backed a constitutional referendum in 2005 that was defeated after being strongly opposed by current Prime Minister Raila Odinga.
The referendum was one of the conditions of the power-sharing agreement between President Kibaki and Prime Minster Raila Odinga, mediated by Koffi Annan that ended the 2007-08 worst ever witnessed post election violence.
News Report By Abdulaziz Billow
Abdulaziz Billow is AfrobeatRadio's correspondent for East Africa.