Femi Kuti and the Struggle for Fela's Legacy
25 July 2010
25 July 2010
Tags: Nigeria, USA
No Comment
Print This Post
Fèmi Kuti; one of the princes' of afrobeat, played New York City at Lincoln Centre on the 12th of this month. I understand that it was not as packed as he would have liked. Frankly, that was the biggest Fèmi news of the day. In a New York Times article published that morning, Kuti was quoted as saying that he was not planning to see the popular Broadway show about his father [afrobeat creator, Féla Kuti] as he was protesting for the show to come to Lagos at the Shrine; the nightclub that his father founded and which he now runs.
When two days later, the New York Times published an article saying that Fèmi saw the show on Tuesday night, I marveled at the 180 degree turnabout. Was he in cahoots with the producers and the media in some kind of publicity stunt? It was an express and perplexing turnaround. Was it not the Kuti family who sold the rights to their father's legacy to the American producers? If Fèmi was involved, surely he should have known what that entailed. All further creative and business decisions are in the hands of the buyer.
The second New York Times article went on to explain that Fèmi's decision was based on a promise by one of the producers [Steve Hendel, whom he met the night before] to bring the play to Lagos before the end of the year. Now Fèmi owns and runs the rebuilt Shrine. He's supposed to be a businessman. That's why I found his change-of-mind stunning in its naiveté. In his place, if I was serious about my stance, I would have had my lawyer draw a contract for the show to come to the Shrine. He should not have capitulated to see the play based on promises by producers who are very likely to be seasoned negotiators.
First of all, producers and investors of Broadway plays aim for long runs for a play to be successful and to recoup investments. I doubt that the Lagos public will be able to sustain such a goal. I'm not sure that a sense of appreciation for theatre has been developed in the populace. Why, it was not so long ago that the city did not even have a functioning movie house. If the producer promised a one off, I do wonder how cost effective that would be. It would involve taking cast, crew, lighting and all logistics associated with the play, to Lagos. Just for one show? I don't think so.
In any event, whether it's a one off or an extended run, the vengeful, petty and criminal Nigerian authorities will be sure to put every hurdle in their way, from power cuts, to road blocks to bribery. It will be a nightmare. I wait to be proven wrong. But back to Fèmi. During the intermission, he was interviewed by a journalist from Sahara Reporters and did not acquit himself in a professional manner at all.
The now viral video of the interview has done more to damage his image and polarize opinions about him. The reporter asked Fèmi why is it that he was not fighting against the corrupt system the way his father did. It was an unfair and possibly provocative question. His father would have handled it with humor and used the opportunity as a teachable moment to gently school the reporter.
Fèmi went all angry Nigerian ghetto on the reporter and disrespected him in a way that he would not have done had the same question been posed by a white reporter. Sad and arrogant were my thoughts on seeing the video. Judge for yourself.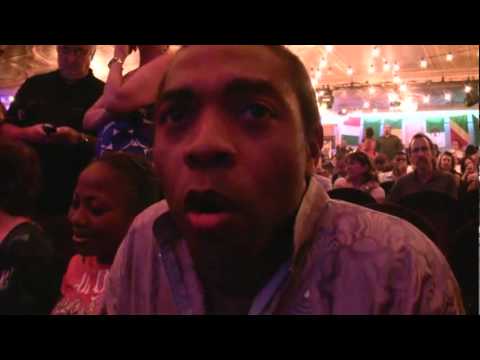 Written by Akenataa Hammagaadji.
Akenaata Hammagaadji is an African music expert and cultural critic. He is the radio host of First World Music; an African music programme broadcast from WVKR. His insightful music reviews, which goes beyond music into cultural dissections, can be found in his weekly First World Music Newsletter, now a blog on afrobeatradio.net