US National Arrested Over Close Links to Al-Shabab
22 July 2010
22 July 2010
Tags: Somalia, USA
No Comment
Print This Post
A US national has been arrested by security officials and charged with trying to join Somali militant group of Al-Shabab. 20 year old Zachary Adam Chesser was charged on Wednesday with providing material support to the militia group in Somalia. According to court documents, Chesser was linked to a website that called for protests against the creators of satirical cartoon "South Park" for the show's depiction of the Prophet Mohammed PBOH earlier this year. A.K.A Abu Talhah and A.K.A. Abu Talhah Al-Amrikee, Chesser is also known to have used sobriquets including TeachLearnFightDie and AlQuranWaAlaHadith on defunct blogs he once posted on; Themujahidblog.com and Revolutionmuslim.com.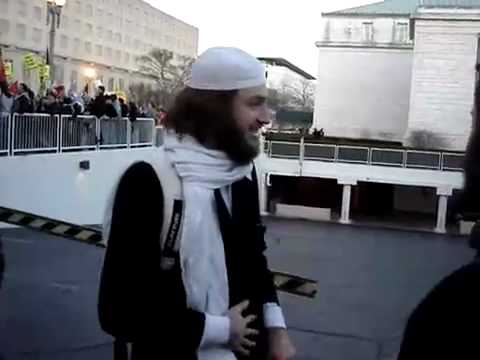 He is seen in the footage above at a rvolutionary rally in Washington, DC. Chesser attended one of the best high schools in the US, Oakton High School in Vienna, Fairfax County, Virginia, where he played American football on the school team. He attended college at George Mason University. Zachary Adam Chesser lives with his mom in Fairfax County.
First interviewed by the FBI in May 2009 about his jihadist Internet postings, Chesser was under surveillance when he tried to board a flight to Uganda with his son on July 10 at New York's JFK airport. He was denied check-in and told he was on a no-fly list. The suspect was allowed to remain at large until his arrest on Wednesday. "This case exposes the disturbing reality that extreme radicalization can happen anywhere, including Northern Virginia," said US Attorney Neil MacBride. "This young man is accused of seeking to join the Al-Shabab, a brutal terrorist organization with ties to Al-Qaeda. These allegations underscore the need for continued vigilance against home grown terror threats."
Chesser said that the training for the militants will begin in a two months time, from now to after the holy month of Ramadhan. He added that he would likely be recruited as a "foreign fighter" and placed with the media branch in Mogadishu, Somalia, where he would still get to serve on the "front line." "We can't fight terrorists alone," FBI assistant director Shawn Henry said in a statement on Wednesday on Chesser's arrest.
Al-Shabab has been battling to oust the transitional federal government of Sheikh Sharif Sheikh Ahmed and put the entire country under their rule.
News Report By Abdulaziz Billow. Additional research by W. Jacobs.
Abdulaziz Billow is AfrobeatRadio's correspondent for East Africa.
Abdulaziz Billow is a Kenyan born Somali Journalist based in Nairobi, Kenya. Growing up, his desire was to be a well known journalist in and outside his country. Abdulaziz Billow has a strong desire in learning more from other people and cultures. He finds it most interesting and gratifying working with peoples  of diverse cultures, races and religions.