Caster Semenya Thrilled To Return To Women's Track.
12 July 2010
12 July 2010
Tags: South Africa
No Comment
Print This Post
World 800m champion Caster Semenya was recently cleared by the International Association of Athletics Federations (IAAF) to compete as a woman after nearly a year of speculation over her gender. While she will not be competing in the upcoming African Championships in Kenya on July 28, 2010, she is expected to compete in Finland on July15 and at the Commonwealth Games in India later in October, 2010.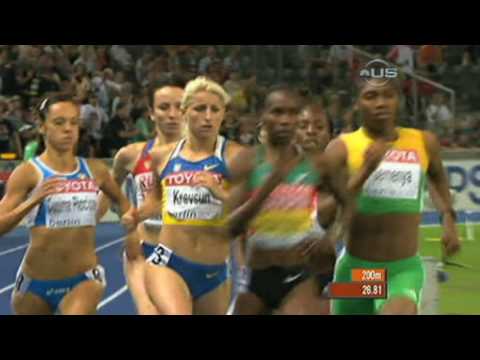 19-year-old Caster Semenya has not competed since she won the 800m world title in Berlin in August 2009. Her win erupted in controversy about her gender. In a statement released by her lawyer, Greg Nott, Semenya said she was "thrilled" to return to women's track: "I am thrilled to enter the global athletics arena once again and look forward to competing with all the disputes behind me".
"Clearly muscular, clearly fast, clearly not trying to look feminine, Semenya's body and gender presentation acts as threat to the supposedly clear separation between men and women. Indeed, her body is so threatening that it had to be studied for ten months to decide to which sex it belongs." – Laurie Essig: Semenya, sex and sports
Semenya has not competed since leaked test results said she is a hermaphrodite. The incident created worldwide controversy that stirred anger from the South African public and government. Her case continues to be hotly debated in athletic circles, fans and detractors alike. Some commentators even speculate that some athletes may boycott her and refuse to compete with her. However, no athlete is known to have publicly said so.
Dave Zirin wrote in the his column: Caster Semenya stands tall
"To order Semenya tested for gender seems about as reasonable as ordering [International Association of Athletics Federations] officials like Pierre Weiss tested for brain cells–which actually isn't a bad idea given his recent off-field performance. And if Weiss doesn't have a sufficient number of brain cells to know how to treat women athletes, it would only be fair to relieve him of his functions for the good of world athletics."
The IAAF gave 19-year-old Caster Semenya the green light to run again after reviewing the results of gender-verification tests she was subjected to. The IAAF released a statement that said "The process initiated in 2009 in the case of Caster Semenya has now been completed," and "The IAAF accepts the conclusion of a panel of medical experts that she can compete with immediate effect." The IAAF added: "The medical details of the case remain confidential and the IAAF will make no further comment on the matter."
What do you think about the controversy? Is the manner in which Semenya was treated by the IAAF and by the South African government proper and professional? Your comments are welcome below.
Written by AfrobeatRadio.