On K'naan, Shakira and the World Cup
14 June 2010
14 June 2010
Tags: Somalia, South Africa, USA
3 Comments
Print This Post
Democracy Now is the best independently produced, investigative news programme airing on radio and television daily in America. Host Amy Goodman and team are far better than any of the stooges reading and "reporting" news in the corporate media. They are worth ten times Rush Limbaugh's weight in platinum. It was on their Friday morning broadcast that I heard about about the K'naan controversy.
K'naan is a Canadian rapper from Somalia. His track, "Wavin' Flag", from his album "Troubadour", was chosen as an official world cup anthem. Coca Cola, one of the corporate sponsors of the event, asked him to rewrite some lyrics of the song which they deemed to be not in keeping with their image. The offending lyrics goes as follows: "Somalia, a violent, poor people zone. People struggling, fighting to eat." First of all, I must say that I am surprised he actually wrote those lyrics at all. Younger immigrants, it seems, have less of a hang up about telling the truth about what is going on in Africa.
I always remember hearing immigrants my age, or older, lying to Americans to project a false facade over reality, saying this thing, or that thing, does not happen in Africa. Even today, people are labeled afro-pessimists if they point out current evils and contradictions on the ground. Anyway, I had "heard" the song before but you know how it is when you don't pay attention to music that does not interest you: you hardly ever notice what is being said. K'naan agreed to rewrite the song and immediately went on the offensive against expected criticisms of selling out.
In a related matter, the fallout from the Shakira and Sony Music plagiarism scandal may have turned out positively for the aggrieved party; the Cameroonian group Golden Sounds. In case you did not know, the official anthem of the World Cup is a song by Shakira entitled "Waka Waka". It is a direct lift of a previously released song by the Golden Sounds. At first, Shakira and her record label; Sony, did not want to acknowledge the theft of the song, but a firestorm of negative publicity in cyberspace brought their egg-splattered faces to the negotiating table. It also appears that pressure caused them to cut a new [but still not official] version of the song with the South African pop group, Freshly Ground.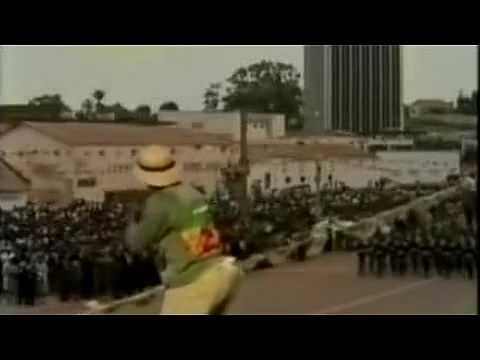 The Sony publicity now presents the new version as Shakira featuring Freshly Ground. Indeed, the initial controversy surrounding the official anthem was that the honour was given to Shakira in the first place. Thousands expressed the sentiment in cyberspace and in the continental media that the opportunity should have been given to an African artist. However, people with longer memories will recall that Youssou N'dour sang the official anthem of a previous World Cup. Anyway, with regards to the Shakira controversy and others like it, Camerounian blogger, Dibussi Tandé, discusses such occurrences in his latest blog entry in terms of historical theft of African intellectual property.
I don't have any clear opinion about these but if you care, one way or the other, your comments are welcome below.
Written by Akenataa Hammagaadji.
Akenaata Hammagaadji is an African music expert and cultural critic. He is the radio host of First World Music; an African music programme broadcast from WVKR. His insightful music reviews, which goes beyond music into cultural dissections, can be found in his weekly First World Music Newsletter, now a blog on afrobeatradio.net