Gabon: A Family Business without Accounting.
7 April 2010
7 April 2010
Tags: Congo, Equatorial Guinea, France, Gabon, USA
No Comment
Print This Post
A family business in the business world is a commendable enterprise. If you own a family business, since it affects the livelihood of your entire family, you most likely find yourself wanting your next generation to contribute to it and to benefit from it. A prudent business wisdom fully supports the benefits of a family business. This, however, turns entirely into a negative situation when it is applied to a national political arena; "family business" and "national democracy" by default are always antonymous. This is also the case in Gabon that seems to be run as a family business without any accounting function.
Gabon gained independence from France in 1960. President Omar Bongo took power in 1967 and declared the country a one-party state the following year. In 1990, protests prompted by economic hardship forced him to allow multiparty legislative elections, but he retained power in a rigged 1993 presidential vote. Fast forwarding 42 years: Omar Bongo served as the country's president until his death last June. His son, Ali Ben Bongo, won an election to succeed him in August, sparking riots and protests from opposition supporters – see video below showing post-election unrest. It's not hard to notice why Gabon is not considered an electoral democracy. The real insult was added to an injury of democracy in Gabon in 2003 when a constitutional change removed a term limits on the presidency.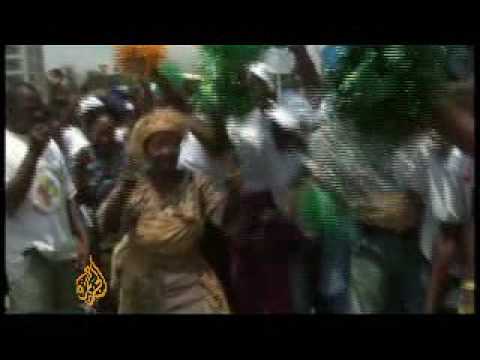 An illusion of democracy in Gabon is maintained by the fact that there are some 50 political parties active there. The fact is that some 40 of them are a part of a coalition under Democratic Party of Gabon (PDG), which holds power since 1968. Effectively, PDG created a system where a patronage or corruption seems to be a governing norm that effectively supports a sort of well-formed pyramid scheme – a scheme not unique to Gabon and present in many other countries – where a power-hungry inner circle keeps a tight control over the interlinked financial and political system that is also capable of directly influencing the legislative and judicial system.
Gabon ranked 96 out of 180 countries surveyed in Transparency International's 2009 Corruption Perceptions Index, a drop from 84 position in 2007. Gabon ranked 108 out of 182 countries surveyed in the UN Human Development Report 2009, a slight improvement from its 119 position in 2007 but on a stagnant level since 1995.
Corruption and human rights' violations are inseparable evil twins; consequently, Gabon's human rights' record remains poor. Various reports bring up stories of arbitrary killings by security forces, common use of excessive force including torture and harsh treatment of prisoners and detainees, arbitrary arrests and detention and politician-controlled judiciary system. Restrictions seems to be a standard governance tool in Gabon. These include restriction on the right to privacy, freedom of speech, press, association, and movement. Reports also bring up the trafficking of persons, violence against children that also include ritualistic killings, and disappearances of persons which all add to the oppressive atmosphere of the impenetrable secrecy. More information can be found at Amnesty International's Gabon Human Rights page.
Freedom of speech and press remains illusive in spite the law provides for these freedoms but it is not generally respected. Many citizens hesitate to criticize the government for fear of losing their jobs. Local journalists generally practiced self-censorship due to harassment by the government. Proofs of these violations are plenty and include such cases as detentions of political journalists and cartoonists, banning newspapers, suspension of licenses and unjustified libel suits. More brutal actions, such as gunmen destroying a satellite TV station, or attacks on a radio station, or assaults of reporters, are being reported also.
The shady politics of Gabon seems to be overflowing to the USA and France mainly in a form of paying off  for a massive money laundering.
In February this year the U.S. Senate investigators found that Omar Bongo used paid lobbyists to bring $18 million in suspect funds into the US financial system to purchase US-built armored cars and aircraft. According to the report, Omar Bongo used a series of off-shore accounts to transfer millions to the lobbyist Jeffrey Birrell and others. Birrell, who refused to cooperate with the investigation, received at least $600,000 for his efforts, the report said. Bongo senior is suspected to stash more than $100 million into the offshore shell companies and deposits into American banks. In a hearing on Feb. 4th, 2010, the Senate Permanent Subcommittee on Investigations questioned lawyers, a realtor and representatives of financial institutions and government agencies about money laundering activities by foreign politicians that, besides Bongo of Gabon, also included Teodoro Nguema Obiang Mangue, the son of Equatorial Guinea's president, and involved various shady transactions by Wachovia Bank, Citibank, Union Bank of California and Bank of America.
French authorities are investigating how a large amount of expensive real estate and other assets was acquired in France by 3 African presidents that, besides Omar Bongo, include Denis Sassou N'Guesso (Republic of Congo),  Teodoro Obiang Mbasogo (Equatorial Guinea) and their family members and close associates. The investigation also throws light on the various intermediaries involved in the shady transactions, namely the banks whose compliance with anti-money laundering regulations is in question and involves paying off judges, politicians and business people.  Such cases involve Omar Bongo keeping fat bank accounts in France and funding the campaigns of President Chirac. Current French president Mr Sarkozy's excessive love for certain African corrupt politicians seems to be highly motivated by France's access to important strategic African natural resources. The cases disclosed last year involve his Foreign Minister receiving hundreds of thousands of pounds for consultancy in Gabon before taking his office.
In spite the fact that Ali Bongo sounds like he is serious about fighting corruption not much is being accomplished. One of the examples of that is the arrest of 5 anti-corruption campaigners in Gabon just before the last New Year. They were detained in harsh conditions on unknown charges. One of the five, Gregory Ngbwa Mintsa, was not by an accident a plaintiff in a suit filed in a French court against Omar Bongo mentioned above.
"The only 'wrong' these men have committed is to demand that Gabon apply rules of good governance as required by its international commitments, that is to say transparency and probity in the management of public funds"

-French NGOs statement about
the arrest of 5 campaigners
Gabon is Sub-Saharan Africa's fourth biggest producer of oil, the world's third provider of manganese and Africa's second largest wood exporter. Nevertheless, 60% of the country continues to live below the poverty line. I believe that a great majority of 1.3 million of Gabonese who are trying to make a decent living outside of Gabon's inner circle, can not, nor ever will, accept it.
Written by Mark Bajkowski.
Mark, born in Poland, is a Jack of all trades, master of none, who lives in New York since 1979. Mark has an unusually wide range of interests and is known to relate well to the people half of his age. Since his early childhood, he felt a curious relation to Africa, which unavoidably brings up the controversial subject of multiple-life experiences.