UN Spokesperson J. V. Nkolo Speaks on UN and Haiti Disaster
8 March 2010
8 March 2010
Tags: Cameroon, Haiti, USA
No Comment
Print This Post
UN Spokesperson J. V. Nkolo on Haiti from AfrobeatRadio on Vimeo.
Jean Victor Nkolo
Journalist and Spokesperson for the President of the 64th Session of the United Nations General Assembly, Jean Victor Nkolo, who was born in Cameroon, speaks to AfrobeatRadio on the role the UN is playing in response to the Haiti earthquake and on UN's disaster response generally.  The interview was conducted on February 1, 2010, roughly two and half weeks after the earthquake. This segment was broadcast on AfrobeaRadio on WBAI 99.5 FM on March 6, 2010.
He has been the Spokesperson for the President of the 64th Session of the United Nations General Assembly since 15 September 2009. Mr. Nkolo has served as an International civil servant for 17 years, working in the areas public information and the media; peacekeeping; Disarmament, Demobilization and Reintegration of Combatants (DDR); humanitarian emergencies; children and armed conflict; and international peace and security. He is a recipient of several Human Rights and Peace Awards. This segment is co-produced by the Dowoti Desir of the Ogun Task Force for Haiti. 
The 2010 Haiti earthquake was a catastrophic magnitude 7.0 Magnitude earthquake, with an epicentre near the town of Léogâne, approximately 25 km (16 miles) west of Port-au-Prince, Haiti's capital. The earthquake occurred at 16:53 local time (21:53 UTC) on Tuesday, 12 January 2010. The earthquake left 3 million people in need of emergency aid.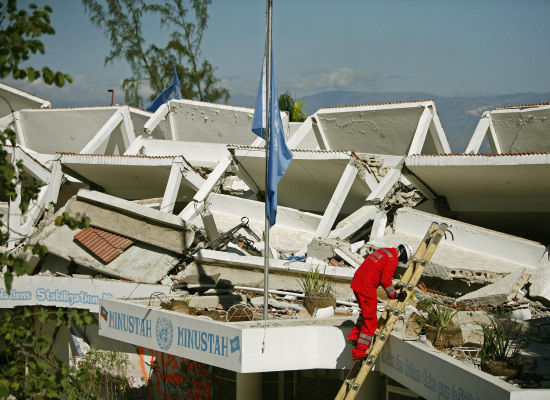 The Haitian Government reports that between 217,000 and 230,000 people had been identified as dead, an estimated 300,000 injured, and an estimated 1,000,000 homeless. They also estimated that 250,000 residences and 30,000 commercial buildings had collapsed or were severely damaged. The death toll is expected to rise. The UN headquarters hosting the stabilization mission for Haiti (MINUSTAH), at the Christopher Hotel in Port-au-Prince, suffered a devastating collapse. UN Secretary-General Ban Ki-moon has confirmed that 83 UN staff members had died,  including mission head Hédi Annabiand deputy head of the UN mission in Haiti, Luiz Carlos da Costa. 32 remained missing. UN's MINUSTAH's had 9,000 troops and police, and other personnel in Haiti at the time of the disaster. There were also a large number of foreigners in Haiti, including non-governmental workers, businessmen, Christian missionaries, and foreign passport holders of Haitian descent. Foreign casualties included government workers, members of the diplomatic corps, employees of international companies, religious missionaries, and aid workers.
The earthquake caused major damage to Port-au-Prince, Jacmel and other settlements in the region. Many notable landmark buildings were significantly damaged or destroyed, including the Presidential Palace, the National Assembly building, the Port-au-Prince Cathedral, and the main jail.
Over 20 countries sent military personnel to Haiti, with Canada, the United States and the Dominican Republic providing the largest contingents. Many countries responded to appeals for humanitarian aid, pledging funds and dispatching rescue and medical teams, engineers and support personnel. Some 9,000 UN peacekeepers have been in Haiti since 2004.
Posted by AfrobeatRadio