Mothers vs. AK-47s
3 January 2010
3 January 2010
Tags: Guinea Bissau, Rwanda, Sweden
No Comment
Print This Post
I had an interesting dream few days ago. In it, without sounding too grandiose, I had a revelation on how to prevent man-made violence in the world. I bet you are getting interested — keep reading then.
It's well known that the 20th was the most violent century in human history.  The below map, viewable here as widget (that requires Java to be installed on your local PC), shows the major events that resulted in the man-made deaths from violence.
The deaths involving Africans are not predominant on the above graph. Europeans and Asians are leading that tragic graph; however, Africans are still linked to over 23.5 millions of lost lives with a substantial part of them related to colonially-induced conflicts. The "top 10″ tragic man-made events, involving Africans, are listed in the table below.
| | |
| --- | --- |
| Man-made Event | Casualties |
| Congo Free State | 8,000,000 |
| Kinshasa Congo | 3,800,000 |
| Sudan Civil War | 1,900,000 |
| Ethiopia Civil War(s) | 1,400,000 |
| Rwanda/Burundi | 1,350,000 |
| Biafran War (Nigeria) | 1,000,000 |
| Mozambique Civil War | 1,000,000 |
| Angola (Govt. vs. UNITA) | 550,000 |
| Algerian War | 537,000 |
| Sudan (1955-1972) | 500,000 |
| | |
It's not hard to conclude that our globe must be in a grip of some kind of madness. The preventing of such madness may require a lengthy effort; but words of a philosopher seem to be always a good staring point: the philosopher and economist, Genevieve Vaughan, defines that madness as "unworkable, uncompassionate hypermasculine values gone mad". In short, the "rule by the Fathers" is not working and, by default, any "solution by Mothers"  might be our best hope we have. Symbolically, mothers vs. AK-47s, in spite that it sounds like a gross mismatch of power, might be our best bet and maybe the only hope we have to curb violence in the world.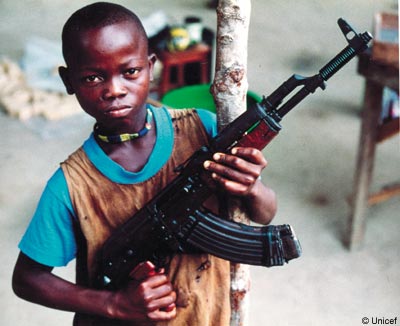 Case and point: Rwanda. Today women constitute about 19% of the members of parliaments around the world. Recently, Rwanda superseded Sweden at the number one in the world in terms of women's parliamentary representation — 56% percent women against 47% in Sweden. Rwanda is an example of the new trend to use electoral gender quotas as a fast track to gender balance in politics; but the woman's majority shall not be treated as a quota goal but as a mean of achieving sanity that our globe needs. And that is not just a contemporary phenomenon. In old North African Saharawi tradition it is women who take responsibility – they can be ministers and ambassadors. Bijagós islands off the coast of Guinea Bissau have traditional matriarchal family structure; that is, the woman is the head of the family. Not to mention the fact that ancient Hausa areas of West Africa were ruled by a dynasty of queens.
So here you have it – my "revelation" is that in the midst of severe global challenges of dealing with violence, a vision of an alternative social form is emerging on the part of a growing group of scholars, artists, activists, and, above all, women who persist in living their own way of life despite of the pressures of colonization, religiosity, and globalization. These individuals are bringing forth the ideas that matriarchy –- an age-old structure for organizing human society based on non-violence, consensus-based decision making, gender balance, and respect for nature — may be much better for the humanity than the failing "Father's rule."
Sources of wisdom and models for human matriarchal societies may indeed provide new pathways and solutions for the new century. The alternatives might be tragic.
Written by Mark Bajkowski.
Mark, born in Poland, is a Jack of all trades, master of none, who lives in New York since 1979. Mark has an unusually wide range of interests and is known to relate well to the people half of his age. Since his early childhood, he felt a curious relation to Africa, which unavoidably brings up the controversial subject of multiple life experiences.